Products
Check Out The Show Room
INTERACTIVE WHITEBOARD
Touch Sensitive Interactive Whiteboard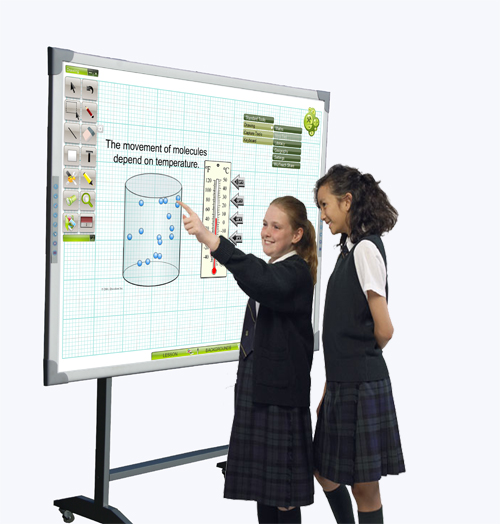 Working Principle:
NHBoard touch sensitive whiteboard is made of a flexible film, 2 resistive films and a hard backboard. The back of flexible film and the front of the hard backboard have a resistive film respectively and there is a tiny air gap between them. The air gap would be closed when pressure is applied to the surface. The two resistive films touch at one point, which converted to a serial data stream and then send to a computer for further processing. It is finger and pen with soft stick system..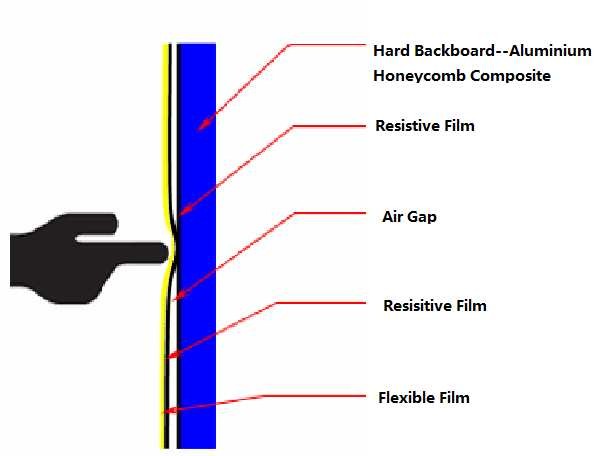 Features of Hardware:
The frame is made from silver-aluminum and eco-friendly material; the surface is made from new nano technology stearin wear-resistant paint sub-light projector film, tear proof, high-definition, easily cleaned (Board cleaner or wet cloth), no projection light spots, easily writing on, and chemical resistant. The back of board is made of aluminum honeycomb board, non-transformable, impact resistance, and lasts as long as 10 years. With 10m USB cable, the connection with computer is faster; this product is easy to installation, you can hang it, pull it, use lifting support, or move it at your will. You can choose the surface material which supports both projector and water-color paint brush and 25 meters long USB cable.
Features of Software:
Our NHBoard touch sensitive whiteboard software helps you writing, drawing, marking, noting on videos and PPT at your will, and makes the screen more vividly by drawing curtain, spotlight, zooming, etc. What's more magical is that it can auto-record all your work and replays the whole process. Our NHBoard software helps you in expressing your idea well and maximizes the effect of education, training, conference and speech.


We sincerely recommend NHBoard IWB in conference, high education and other fields. It is the substitute product of blackboard, common white board, curtain and rear projection TV, and it is also a mast in interactive teaching and product demonstration.
Specifications of NHBoard Touch Sensitive Whiteboard
Model

TGN70/TGU70

TGN83/TGU83

TGN100/TGU100

TGN115/TGU115

Physical Size

(mm)

1390×1065×20

69 inch

1675×1279×20

83 inch

2193×1273×20

100 inch

2525×1460×20

115 inch

Active Size

(mm)

1298×973

64 inch

1608×1198

79 inch

2101×1181

95 inch

2433×1368

110 inch

Packing Size

(mm)

1470×1145×100

1755×1359×100

2273×1353×100

2605×1540×100

Aspect Ratio

4:3

4:3

16:9

16:9

Net Weight

(KG)

20

24

33

39

Packing Size

(KG)

25

30

40

49

Working Principle
Touch Sensitivity
Writing Way
Pen, finger or other blunt objects
Board Surface
Adopts special hard-coated polyester, the surface is clear, tear proof. (Water whiteboard film is available. Use board cleaner to remove)
Interface
Standard USB 2.0 Cable
Resolution
9600*9600
Calibrate Accuracy
≤1mm
Processing Speed
500 dots/second
Tracking Speed
5m/Second
Power Supply
USB
Power Consumption
≤1W
Operating System
Windows98/2000/2003/xp/vista/window7
Temperature
Working Temperature:-15-50℃ Storage Temperature:-40-50℃
Humidity
Working Humidity:20-90% Storage Humidity:10-95%
Standard Accessories
Whiteboard Pen 2 pcs, USB cable 1 pc, Wall Mounted Bracket 1 set, Driver CD (software and user guide) and User's Manual.
Optional Accessories
Mark Pens 2 pcs, Eraser 1 pc,Mobile Floor Stand, Mobile Floor Stand with Projector Mount, Wall Mounted Projector Mount
Certificates
CE, FCC, C-tick and ISO.
Warranty
5 years
Note: 1. Size error: ±3mm, Weight error: 1Kg. The shape and standard are subject to change without prior notice.
2. Difference of TGN and TGU Series:The TGN series can not support dry eraser function, TGU series support
dry eraser function.