Products
Check Out The Show Room
INTERACTIVE WHITEBOARD
Infrared Touch Interactive Whiteboard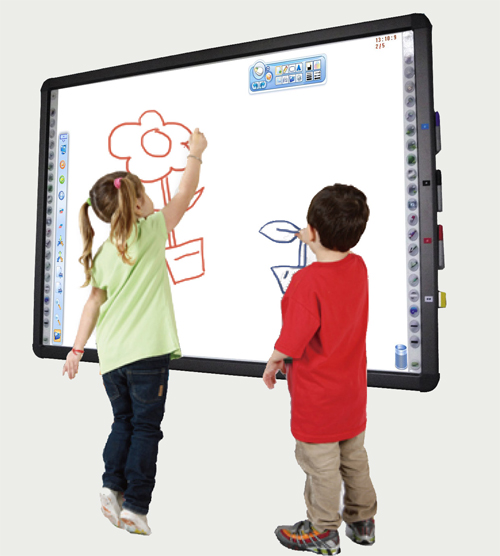 Working Principle:
Infrared touch interactive whiteboard adopts infrared technology to enable finger, gloved hand or any other opaque object to touch directly to control PC rather than needing to use a special pen. There are large numbers of infrared senders and receivers placed around all the four sides of infrared touch Interactive whiteboard closely, which comprise a dense matrix vertically and horizontally. When something touches some point of the whiteboard, which blocks the corresponding vertical and horizontal infrared rays, the X/Y coordinate is decided, then the computer would easily know at where you give your command.

Features of Hardware:
1.Board:
※. The central board is made of writing aluminum honeycomb board, PVC board which is strong, anti scratch, anti-glare. The frame is made of high quality aluminum.
※. Slope infrared cover on the edge to protect the Inside PCB against dust.
※. Power by USB.
※. Multi-colors choices for the board frame to satisfy local markets: Black, matt iron grey,champagne, etc…(Matt iron grey have stock)
※. Corners are round to protect children from hitting head.
※. Hotkeys: General two hotkeys attached on the each side of the board for convenient.
※. Installation Wall-mounted, with mobile stand (a. mobile stand with arm for projector, mobile stand without arm for projector). Can be installed together with traditional black board or green board form a combination board.
2. Digital Pens : Three color pens (blue, black and red) and eraser. (optional)

3. Multi Touch Function : Support multi touch under the operating system of Win7.
Features of Software:
1. Two points touch gesture control: screen moveable, previous page, next page, select, rotate, zoom in/out, eraser.
2. Use finger or pen as a mouse: single click, double click and right click
3. Import word, PPT, JPG etc file to annotation or edit. Support bmp, wmf, emf, mp3, avi, wmv, asf, dat, mpeg, mpg, rm, rmvb,mov,vob fie, insert pictures, flash and text.
4. Variety pen choices: pen, brush, traditional Chinese brush, high light pen( semi-transparent color for remark or annotation), magic pen ( turn handwriting figures like line, circle, triangle) into standard).
5. Right click: copy, cut, clone, delete, rotate, mirror, unlimited copy, zoom in/out, higher link music and voice etc.
6. Regular used colors and user define colors for choices.
7. Software Interface can be moved freely, hide, and customizable.
8. Handwriting Recognition.
9. Variety pen size, color, type for choices. Redo and undo function.
10. Main menu: save, save as, Multi-language options, print, send emails
11. Record and playback.(record writing or annotation all the operations on the board and save for real-time or after-class playback)
12. Different courses special tools: ruler, protractor, compasses etc.(customize local tools)
13. Local Resources: different type pictures and words for different courses using. (user can freely add history words and pictures, add chemistry words and pictures, add English words and pictures, Biology courses etc….). And user can add a menu for different level students' courses.
14. Searchlight, camera, Screen cover.
15. Background for teaching: black page, green page, letter paper, football field, basketball field, saves for music and users can add more freely.
16. Multi-language: Arabic, English, French, German, Israel, Italian, Japanese, Korean, Polish, Portuguese, Portuguese-Brazil, Russian, Simplified Chinese, Traditional Chinese, Turkish (support customize local language)

We sincerely recommend NHBoard IWB in conference, education and other fields. It is the substitute product of blackboard, common white board, curtain and rear projection TV, and it is also a mast in interactive teaching and product demonstration.
Specifications of NHBoard Infrared Touch Interactive Whiteboard
Model

IGU80

IGU85

IGU96

Physical Size

(mm)

1600×1268×55

80 inch

1760×1280×55

85 inch

2089×1280×55

96 inch

Active Size

(mm)

1467×1135

1627×1147

1956×1147

Packing Size

(mm)

1680×1350×120

1880×1360×120

2170×1370×120

Aspect Ratio

4:3

4:3

16:9

Net Weight

(KG)

29

31

35

Packing Weight

(KG)

31

33

38

Touch Technology
Infrared Induction
Writing Way
Finger, pen, teaching pointer, any other opaque object.
Board Material
Aluminum honeycomb board, PVC and Porcelain.
Shortcut Key
Dual side shortcut key, 44 keys
Interface
Standard USB 2.0 Cable
Resolution
9600*9600
Calibrate Accuracy
≤1mm
Processing Speed
500 dots/second
Power Supply
USB
Power Consumption
≤1W
Operating System
Win2000, Win2003, XP, Win7 32 bit, Mac OS X 10.5, HID support all the systems.(Win7 support multi-touch).
Temperature
Operating: -20°C ~ 70°C, Storage: -40°C ~ 85°
Humidity
Operating: 90%( noncondensing at max 40°C), Storage: 90%( noncondensing at max 40°C)
Standard Accessories
10m USB cable 1 pc, Wall Mounted Bracket 1 set, Whiteboard Pen, Driver CD (software and user guide) and User's Manual.
Optional Function & Accessories
Mobile Floor Stand, Mobile Floor Stand with Projector Mount, Wall Mounted Projector Mount and Intelligent Pen Holder.
Certificates
CE, FCC, C-tick and ISO.
Warranty
5 years
Note: 1. Size error: ±3mm, Weight error: 1Kg. The shape and standard are subject to change without prior notice.The Presentation Video of Infrared Touch Interactive Whiteboard: http://www.tudou.com/programs/view/Qo1SUFqHEqk/ SKD Solution
1. What is Infrared Touch Interactive Whiteboard in SKD Solution?

It is a solution that we don't provide whole infrared touch interactive whiteboard to our clients, we only provide four frames without central panel, clients can purchase central panel in their place and assembly the SKD in their warehouse, factory or even office. As you know, the infrared touch interactive whiteboard's secret are hided in the four frames with two transmitting PCB boards and two receiving PCB boards, the central board can be any board like PVC, aluminum, enamel. We will provide all the accessories like screws, corners, flat cables and so on.
2. Infrared Touch Interactive whiteboard SKD Features: •Save Freight Cost
•Save Packing Cost
•Save Labor Cost

3. Bill of Material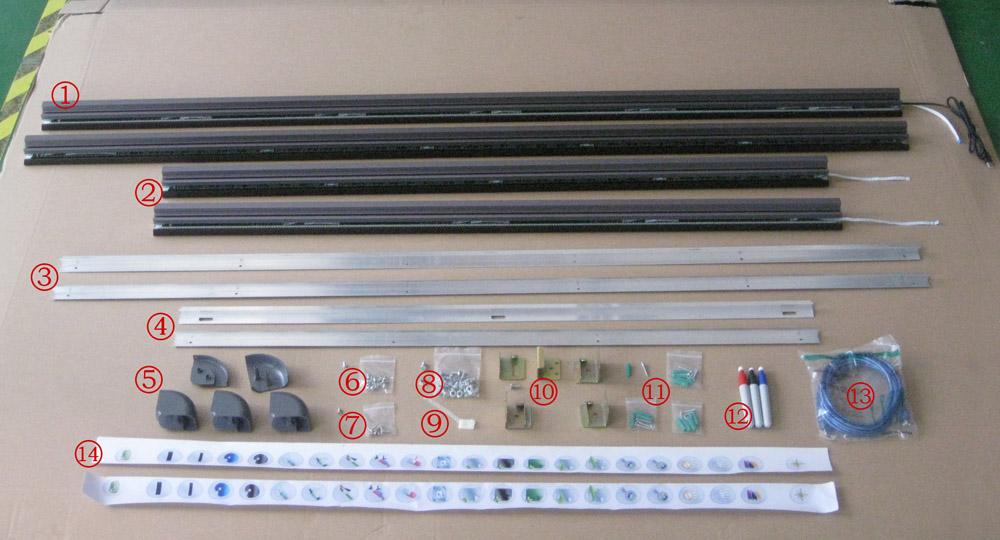 ①Long outer AL frame *2 pcs
②Short outer AL frame*2pcs
③long fixing aluminum *2pcs
④Short fixing aluminum *2pcs
⑤Corner *4 set
⑥Fix SKD and board screws *24pcs
⑦Corner screws*8 set
⑧Board fixing aluminum screw (Wall bracket screws)*18+4pcs
⑨USB lock*1pcs
⑩Wall Bracket *4 pcs
⑾Wall bracket screws * 4 set
⑿Pen without ink*3pcs
⒀5m USB extension cable*1pcs
⒁Hotkey * 2pcs

4. SKD Assembly
•Vey easy
•Can be done in
a. Warehouse
b. Factory
C. Office
•Our Trainings
a. Assembly Instructions
b. Assembly Video
The Assemble Instruction Video of Infrared Touch Interactive Whiteboard In SKD: http://www.tudou.com/programs/view/Sq913u8_u0k/