Products
Check Out The Show Room
INTERACTIVE WHITEBOARD
Portable Interactive Whiteboard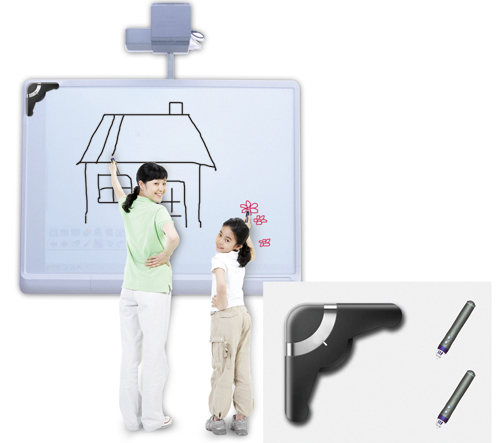 1. Brief Introduction
NHBoard portable interactive whiteboard adopts infrared and ultrasonic technology, and it has been mainly used in class demonstration, meeting discussion, report, military training, brainstorming, remote education, video meeting, remote medical consultation meeting, etc . This portable IWB had broken the traditional educational mode with blackboard, chalk and eraser.
Our portable interactive whiteboard is an input device, based on computer, and featured with people and computer interaction mode. It includes ultrasonic whiteboard and related software. Ultrasonic whiteboard can test position information written by electronic pen, and transfer this information to computer connected, this place information is integrated with screen picture in computer, it projects to whiteboard via projector, so, you see, a full interactive demonstration is in your eyes .Users can effect a real face to face communication via this whiteboard, can write all kinds of information, such as mark, explanation, picture, modification, sound etc to your electronic document, also can directly arrange your files, pictures, videos, etc, it makes your work life more vivid.
2. Hardware Features
1. Advanced wireless calibrate technology in the world: Adopting advanced ultrasonic and infrared wireless calibrate technology, suitable for large area, high density polychrome painting, with high resolution rate, quick response speed, keen operation.
2. Humanized-design electronic pen: support left and right mouse key function, move and hang to stop function, fully simulate function of mouse.
3. It is small, portable and easy to carry, even can be fitted in your pocket. Wherever you are, whenever you need, our portable interactive whiteboard can be delivered to the right place at right time effectively!
4. Our portable interactive whiteboard can be attached to any hard and smooth surface, and convert the surface (such as the conventional blackboard, whiteboard, wall, DLP, PDP and LCD) into an standard interactive whiteboard
3. Software Features
Correct: 9 points calibration, high accuracy calibration, advanced calibration algorithm.
File: New Set, Open, Edit, Save.
Pen: Normal pen, row pen, magic pen, laser pen, writing pen, highlighter, pattern recognition pen, Chinese handwriting recognition pen, custom setting colour and width of the pen.
Eraser: delete, selective delete, clean page.
Basic graphics: Circle, rectangle, isosceles triangle, Right triangle, rhombus, pentagon, hexagon, Dynamically adjust the border thickness, color and fill color.
Geometric Functions: Sine, cosine, tangent, natural logarithm, quadratic, power of 2.
Comments: write comments in any application directly, such as graphic mark, video annotation, save commends of powerpoint , word, Excel as original format.
Text: support any font, size, color, simple formula.
Additional Features: Curtain, spotlight, screen recording, screen soft keyboard, screen shots, support sending files to e-mail, support the clock ,ruler, triangle, compasses, protractors and other drawing tools.
Multimedia: support avi, wmv, mpg, mov , swf and other video or Flash format, featured with embedded play and independent play.
Hyperlinks: Add word, ppt, excel, internet hyperlinks in the document.
Photo: Support BMP, RLE, DIB, GIF, JPG, JPEG and other image formats ,can zoom, move ,rotate, lock and unlock these images.
Edit Object: Edit handwriting, graphics, functions, etc on the page , arbitrary zoom, move, rotate, lock, unlock, and change the color, etc.
Save format: support EWB、BMP、PDF、PPT、HTML.
Edit replay: replay the text of whiteboard.
Withdrawal and Recovery: revoke or restore the previous action. Index: view, edit, copy, paste, delete, and sort.
Printing: print text, include printing setting, printing preview.
Language: supply Chinese simple font, or English, custom other languages.

4. Portable Interactive Whiteboard Specification
| | |
| --- | --- |
| Physical Dimension | Receiver Size:89*89*28mm Controller size:115*75*28mm |
| Packing Dimension | 30*28*7cm |
| Effective Area | 0-100 inches |
| Aspect Ratio | 4:3 and 16:9 |
| Technology | Ultrasonic and Infrared Wireless Calibrate Technology |
| Writing Way | Electronic pen |
| Power Supply | Power is obtained from the computer directly through the USB cables |
| Board Material | Any board with stable temperature and smooth surface |
| Interface | USB |
| Power Consumption | <0.5W |
| Respond Speed | 200 inch/second |
| Operating System | Windows® 2000,Windows® XP, Windows® vista,Windows®7 |
| Work Environment | Operation Temperature: minus 4 degree to 40 degree, Operation Humidity : 10~80% |
| Accessories | User manual, electronic pen, battery(LR6AA), USB wire(5m/16ft), disk |
Note: 1. Size error: ±3mm, Weight error: 1Kg. The shape and standard are subject to change without prior notice.