Products
Check Out The Show Room
INTERACTIVE WHITEBOARD
Interactive Voting System
IIntroduction

NANHAO interactive voting system is composed of wireless receiver, controller and feedback device, which can be largely used in schools at all levels,voting, lottery and evaluation etc. Just by pressing the buttons of the feedback device students can answer the questions and teachers can get the statistics of each student swiftly. Due to its compatibility with NANHAO interactive whiteboard, the interactive voting system will become the most integrated solution for interactive class and other applications.
Features

Adopting 2.4G wireless network technology.
vailable to operate at any angle with sensitive signal receiving capability.
More than 20 meters of transmitting distance.
Supporting 65000 users at most with no interference.
Multi-angle of statistics, various ways of answering/responding.
Compatible with interactive whiteboard.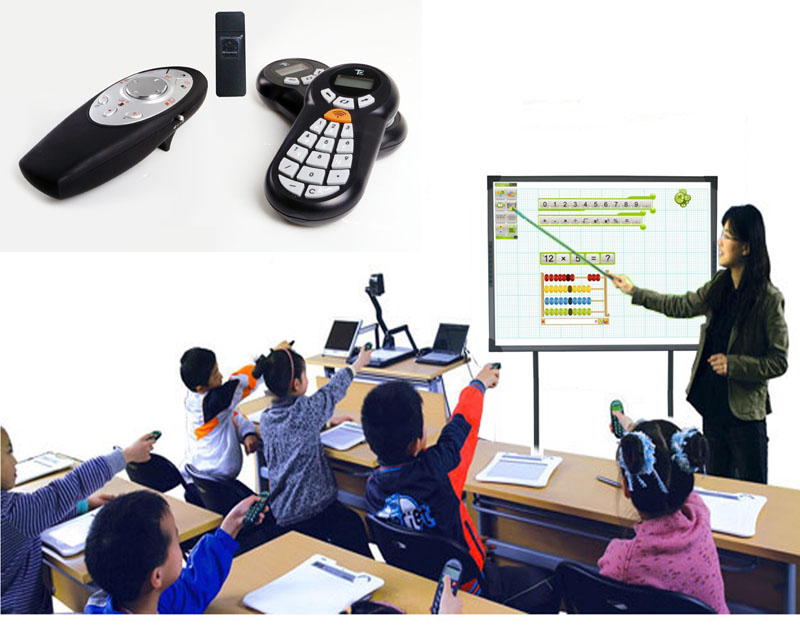 Functions and applications

1.Evaluation and testing: Teachers can use interactive voting system to make some evaluations/test to the students to get an all around understanding of the students' mastering degree on the knowledge. All of the evaluation report can be exported and saved as one of the standards that teachers assess the students.
2.Random quiz in class: Teachers can use interactive system to make some quizzes by exporting programs from the class courseware or web questions base, quizzing on the board or dictating in class to realize an interactive teaching method.
3.Interesting knowledge contest: Multi options to answer & response with impromptu answering model, answering right contest model, knocking out model etc thus make the class more interesting and inspiring.
4.Poll and vote: You can use the feedback device to make anonymous polling and the statistic will be shown at once scientifically and justly.